By Isaiah Opiyo, Business Daily Africa
Have you ever wondered why some customers opt to borrow from microfinance institutions (MFIs) which are expensive rather than from banks which charge lower interest rates?
While the reasons could differ, some borrowers do resort to microfinance loans after failing to secure a loan facility from a commercial bank.
MFIs also target the bank borrowers whose loan applications have been rejected due to low level of creditworthiness.
However, most borrowers hurriedly opt for a loan facility at an interest rate of 60 per cent per annum from a microfinance institution and forego a banks which charges a 25 per cent interest rate? The following explains why:
Information asymmetry
With the advent of credit reference concept in the banking industry, commercial banks can now submit data on non-performing loans and share the information amongst themselves as a measure of minimising any risk of default.
This means that any time your loan application lands in the hand of a bank's credit officer, the officer would place an inquiry with a credit reference bureau seeking to access your report to ascertain your history.
If as a potential borrower you have defaulted on your loans, your lender will submit the information to a credit reference bureau so that it can be shared with other credit providers.
Whenever you approach any bank, they will take extra caution in their decision due to the degree of risk in lending to you. The credit officer may either lend you on tight conditions or deny you credit.
Lack of access to their default information
Since MFIs are yet to be included in the information sharing mechanism, most borrowers seeking micro credit facilities are quite confident that due to information asymmetry, the institutions cannot access their default information.
This confidence attracts most serial defaulters to seek for facilities from the microfinance firms rather than go for bank loans.
Shorter loan processing time
Due to intense competition in the financial sector, most microfinance institutions have opted to shorten their loan process time to enhance their competitive edge with banks.
MFIs take a shorter time to process a loan of an equivalent amount compared to a bank.
This shorter period attracts borrowers who are in dire need of an emergency loan.
Universal lending rates
Most microfinance products have constant premium interest rates charged on the loans borrowed.
A microfinance institution would extend a loan facility at a universal interest of say five per cent per month to various borrowers without deeper regard to their different levels of creditworthiness.
However, abank would lend an equivalent amount to different borrowers at different interest rates depending on their level of creditworthiness. This variance in interest rates by banks often discourages most borrowers who have collateral to guarantee their loans.
Need to preserve one's credit history
A default in one microfinance may not end into the credit reference bureau immediately, so customers opt to stay away from bank loans to preserve their credit history.
Keeping off seeking credit can only preserve your credit history if you are sure that owing to your financial constraints, you would not be able to pay your debts promptly.
However, soon due to the recent amendment in the Finance Bill, this could change as most MFIs especially deposit-taking may be included into the information sharing mechanism.
Opiyo is personal financial advisor & Coach. Email:: isaiah.opiyo@toleranceadvisors.com
By Mwangi Muiruri, Sunday Nation
Pastoralists have a chance of doing profitable business if a government's plan to inject Sh1 billion into the leather industry is implemented.
The plan will see small tanneries established in all counties where pastoralism is a major economic activity by the year 2013 to boost trading in hides and skins.
The programme will be funded by the World Bank, Industrialisation ministry, Leather Society of Kenya and microfinance service providers.
Announcing the plan recently in Laikipia, Industrialisation assistant Minister Ndiritu Muriithi said slaughterhouses will also be revived and additional ones established.
Mr Muriithi said the sector has been unable to fully exploit the potential for hides and skins production due to uncoordinated activities and poor leather development services.
There are also plans to position the sector for the export market to generate foreign earnings as well as increase local consumption of leather products.
Currently, China is the top importer of Kenyan hides. Others are India, Thailand, Vietnam and Italy.
Mr Muriithi had led a government delegation to launch a Sh7 million government programme to buy off livestock affected by drought in Laikipia County.
Under the programme, livestock keepers will sell the sickly livestock to the government, which will in turn slaughter them and give the meat to the local communities as relief food after certifying it fit for human consumption.
Mr Muriithi said the government intends to grow the leather sector by over 50 per cent in the next five years.
"So far we have embarked on that drive and we are on course to establishing a leather development council to coordinate operations in the industry to ensure it becomes competitive in the global market," he said.
Livestock Development minister Abdi Kuti said the council will be mandated to formulate policies on how to market andadd value to skins and hides.
"Through policy formulation, we will group all sources of hides and skins in the country, train personnel who will spearhead training for community-based farmers' groups on value addition and any other profit-oriented projection in the tanneries to be established," Dr Kuti said.
He lamented the fact that even local leather manufacturing companies have had to source for raw materials from foreign markets.
"We want to shift from the situation whereby we have the potential but not cashing in on it. We should be the first priority in supplying the local leather industry with hides and skins before resorting to outside suppliers," he said.
A major threat to the leather sector, the minister noted, was poor handling of skins and hides.
"You find that locals only dry their skins through natural methods of subjecting it to direct sunlight. We are seeking a situation whereby farmers are empowered to access value addition and only take to the market treated skins that are ready for immediate use," he said.
By George Ngigi, Business Daily Africa -
One of Kenya's oldest microfinance institutions, which draws its membership from church associations, has acquired a licence to take deposits, making it the fourth micro-lender to come under the banking sector regulator.
Small and Micro Enterprise Programme (SMEP), which was founded by the National Council of Churches of Kenya (NCCK), joins Faulu, Kenya Women Finance Trust and Uwezo Ltd among micro-lenders licensed by the Central Bank of Kenya to take deposits from the public.
SMEP was formed in 1975 as a relief arm of NCCK and currently has 87,500 clients and an outstanding loan portfolio of approximately Sh1.1 billion.
Faulu was the first small lender to be licensed in May last year, in a move that sought to open up more funding avenues for the micro-financiers who were previously prohibited from taking any deposits from the public.
Micro-financiers that already have CBK's licence, however, say tapping deposits from the public has not been easy, and they mostly have to rely on loans from large development finance institutions.
"Deposit mobilisation takes time as we have to educate our existing clients and market ourselves. Institutions that have transformed before are still borrowing," said Phyllis Mbungu, chief executive of SMEP.
The institution received Sh100 million from development financier Oikocredit last week and Sh300 million from Standard Chartered Bank last month, amounts which it intends to grow its loan portfolio.
Ms Mbungu expects SMEP's branch network of five outlets and NCCK's country-wide membership to help it mobilize resources.
"We have an advantage over those who have gone before us as NCCK has goodwill among the churches through which we intend to mobilise deposits. We already have five branches ready for deposit taking," she said.
The five branches are Mombasa, Tumaini house Nairobi, Nakuru, Mwea and Maua.
Though it boasts of being among the oldest microfinance institutions in the country, SMEP delayed in obtaining the deposit taking licence as it had to dilute the shareholding of NCCK to below 25 per cent as required by the Micro Finance Act.
CBK's target is to spread financial inclusion in Kenya through licensing of micro-lenders to take deposits.
A recent World Bank survey said 34 per cent of Kenyans are excluded from access to financial services, a five percentage point gain from the rate of exclusion reported in a sector survey done three years ago.
"Deposit taking micro financiers (DTMs) will address entry barriers in areas that have not been well served by mainstream financial institutions. The CBK expects that DTMs will offer demand driven, affordable and convenient products to their market niches," said Central Bank in a statement.
By Gitonga Njeru, Women News Network -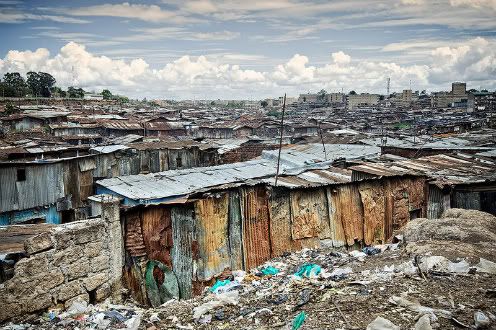 Mathare Valley slum just 5 kilometers (3.2 miles) north of downtown Nairobi, Kenya. Image: Claudio Allia
Nairobi, Kenya: With higher levels of economic growth expected in the coming years, Kenya's banks have already begun giving successful loans to a specific and special group of women. Many of these women have struggled through poverty with only one option available to them as they raise their children alone without assistance.
Known in Kenya as sex-workers – prostitutes – they work selling the only thing they often only have available to sell – their own bodies.
The move to assist women who are currently working in Kenya as commercial sex-workers is not only meant to get prostitutes out of a risky trade, but to improve their life.
"We are giving loans to prostitutes in a move aimed at helping them," says Equity Bank Chief Executive Officer, Dr. James Mwangi, during a recent Women News Network interview.
"It is sad that many women are still in the trade of prostitution. Many should know about available opportunities," says Jane Mumbi, a 35 year old mother and former commercial sex-worker, who now owns a restaurant on the outskirts of Nairobi.
In a country where the average income is less than two dollars (USD) per day, the goal of microfinance credit is to bridge the poverty gap as it also works to help women increase gender empowerment through opportunity.
We saw "no bathrooms; no toilets; no running water; no kitchens; maybe a cooking stove run on kerosene shoved in the corner. Outside the door were plastic buckets to wash and bathe in," shared global woman's advocate, Cathy Michael, when she had a chance to see extreme poverty conditions up-close in the Mathare Valley slum, which is only 2.3 miles from the center of downtown Nairobi.
"Women constitute the majority of the poor and also the absolute majority of Kenyans," said a detailed 2000 report made by the government of Kenya for the IDRC – International Development Research Centre.
"Studies in Kenya indicate that women are more vulnerable to poverty than men," continued the report. "The release of women's productive potential is pivotal to breaking the cycle of poverty so that they can share fully in the benefits of development and in the products of their own labour."
The Mathare Valley slum, just 5 kilometers (3.2 miles) north of downtown Nairobi, is one of the oldest slums in Kenya. There 200,000 people live on a narrow strip of land measuring only 1.2 by .2 miles. Today 85% of the shacks in the Valley are occupied by single mothers. Living in small spaces, that often measure no more than 10×10 feet with no running water, mothers and their children face constant danger from disease and malnutrition.
Crime, prostitution and lawlessness is a common reality in the Mathare Valley slum. Food scarcity and severe extremes in poverty are an everyday occurrence.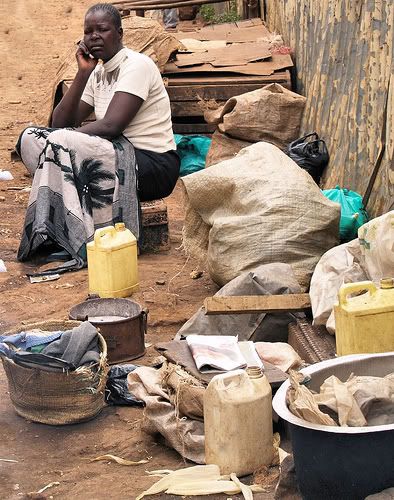 Woman on the street of Kibera slum trying to sell her belongings. Image: Chrissy Olsen
Facing daily humiliations as they are shunned by Kenyan society, many women who have decided to become commercial sex-workers in the slums, work under high stress and often very dangerous conditions, where rape and the dangers of HIV/AIDS are real and imminent.
Providing food and shelter for their children and/or elder parents, women sex-workers who live in the Mathare Valley and also in the Kibera slum, south of Nairobi, often are the only ones who can as official "heads of household" for their families.
Providing food and shelter for their children usually falls completely on the women.
"In addition to being a prostitute, I have lived in the streets for many years and been involved in all kinds of serious and petty crimes," says former commercial sex-worker, Jane Mumbi, who now lives a new life. "I have even been involved in drug trafficking and been jailed several times," she admits.
Working under the stress of a constant threat of rape violence in the processes surrounding their work, prostitutes from the slums sift through debilitating and often insulting treatment as they collect monies for sex-services. Their pay goes first for food, then for the needs of their children and parents. Their own needs come last.
"It is good. It is a good feeling I don't have to sell my body anymore to feed my two young children. Life is hopeful," adds former prostitute, Jane Mumbi.
Trapped in a dangerous wheel with work that is rising in acceptance among the youth in modern Kenyan society, many of Kenya's sex-industry workers have little to no opportunity to improve their life; to learn trade skills; or to receive more than a very basic education.
The average amount of time spent for most women, who work as sex-workers in Kenya is 6 to 8 years. When given the opportunity to receive funding through microloans, many women are grateful but cautious. Fear of failure and greater poverty in taking chances in work that will take them away from prostitution haunts them.
An average microloan for women in Kenya today can range from $700 to $6,000 (USD). During the process, each woman must become a member of a specific womens microfinance group which must meet the minimum requirements of Kenya's regulatory AMFI – Association of Microfinance Institutions.
The plan to pay back loans is brilliant. Women meet with their group on a regular basis to borrow and pay back loans to their bank over an extended period of time. Bank microloan programs succeed as women are held accountable to themselves, the bank and the group as they payback what they have borrowed. As loans are paid, opportunities for women to borrow larger amounts of money are also made available.
Many of Kenya's commercial sex-workers see themselves as entrepreneurs or 'bangaisha,' a slang word in Kenya for someone who 'solicits their own business.' Through microloans and bank financing, the concept of 'understanding business' puts sex-workers in an optimized position to work well with the ideas of business loans.
Former prostitute, Jane Mumbi, pays a mortgage of $30 (USD) per month for the restaurant she now owns. She also pays an additional $60 (USD) per month, via her profits, back to her bank.
The policy of lending to those in need has worked. "We have been quite successful," says Mwangi about Equity Bank's lending programs, which is now partnering with the UNDP – United Nations Development Programme.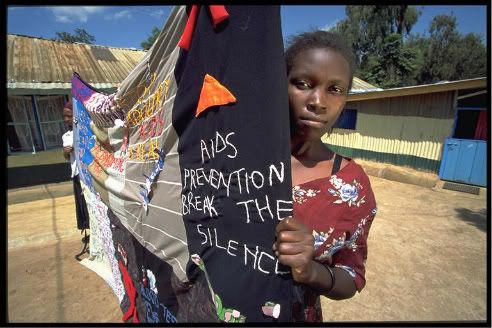 Young woman in Kibera slum holds HIV/AIDS awareness banner. Image: UNAIDS
Equity Bank, which started as a non-profit financial service in Kenya, is now one of the top 100 largest banks in Africa in terms of assets. Many lenders, starting out as traditional nonprofits, have now been transformed into commercial banks that focus on helping the poor. This has attracted additional financing from private investment funds and investment entrepreneurs.
"My restaurant is now making a profit of more than $800 (USD) per month," says Jane proudly.
Loans by Equity Bank range from $700 to as much as $6,000 (USD). The bank also provides loans that are smaller for women who are starting at a beginners level.
"We encourage realistic proposals from the applicants. (Applications) have to be from women," says Mwangi about the institution's microloan program for women. "We have other lending categories which men can apply for, but this program is for women (only). They also have to prove that they can pay back the loan."
Owner of a tailoring business in Kiambu, Kenya, former sex-worker, Margaret Muchene, has created a new career. Through a microloan program at Equity Bank, Muchene has received more than $3,000 (USD) to launch a sewing and clothing company.
Jamii Bora Trust, a MFI – Micro Finance Institution based in Kenya, got its beginnings in 2000 when Swedish humanitarian and former head of the African Housing Fund, Ingrid Munro, offered street beggars and prostitutes small microloans to start self-owned businesses. Soon vegetable stalls and used clothing businesses were created as women who received the loans were asked to first save half the amount of money they gathered to pay back their loan.
Jamii Bora is now one of Kenya's largest microfinance organizations, with 230,000 plus members. Through extended programs they also sell life and disaster insurance. An affordable comprehensive health-insurance plan is also available for members. Those who become part of the program pay approximately 40 cents (USD) per week for care in mission hospitals.
Jane Mutua, who is widowed and has never been a prostitute, has also benefited from a small Jamii Bora loan ($1,500 USD) which has helped her expand her farming business.
"I am very happy. Women like me are at a very high risk when we do not have any money. We often tend to go into prostitution and other vices to survive and feed our families," shares Mutua.
"The good thing, with these small loans, is that you can always borrow (again) as soon as you pay back," Jane explains.
In the last ten months, as microfinance programs expand in the region, Equity Bank has been the financial lender to more than 7,000 women who have begun to establish their own businesses.
"The government (also) hopes to reduce HIV infections in the country, which still remain high," says Equity Bank CEO, Dr. James Mwangi.
"There are many microfinance specialists who say that the very poor cannot use a microloan. But that is an ancient myth — one that dies hard," says Sam Daley-Harris, recipient of the first Susan M. Davis Lifetime Achievement Award and founder of RESULTS, a grassroots lobbying organisation working closely on issues to alleviate world poverty.
"Many women are scared to apply for loans since they fear that failure to repay will increase their levels of poverty. Many have died from HIV or other causes," adds Dr. Mwangi.
Teaching commercial sex-workers in Kenya the financial territory that comes with microloan programs is very important. Empowerment,  self-worth and training are an essential part of the formula.
"The agreed deadline of 2015 (for The United Nations Millennium Development Goals) is fast approaching," said UN Secretary General, Ban Ki-Moon recently on September 16, in a formal statement on world poverty. "There is still much to be done."
From Vanguard Nigeria -
The Association of Microfinance Industry (AMFI) has adopted rules designed to govern and promote accountability among its members.
AMFI Chairperson, Dr. Jennifer Riara, said rising concern worldwide on the effectiveness of microfinance to fight poverty had prompted the signing of the new regulation that was witnessed by 43 of its members.
"There has been growing concern about our activities, and the thin line between poverty eradication and profit making continues to confuse members of the public," said Riara at a news briefing.
"What we have signed would help streamline our operation and instil a sense of professionalism in meeting the objective of reaching out to the 80 per cent of the un-banked members of the society," she said
Dr. Riara said signing of the commitment note would help divert the growing perception of mission shift in the industry.
World over, majority of the microfinance institutions are seen to be moving from eradicating poverty to making profits from the poor.
Kenya, she reckons, has not remained untouched by this emerging concern and the industry is finding itself increasingly under scrutiny from partners, the Government and the society in general.
She said the pact was a clear indication that microfinance in Kenya does not experience 'mission shift' in its operations and is focused on taking financial services to the marginalised communities.
The note signed includes defining criteria and the process of bringing in new members, code of conduct among several key governance areas.
In 2008, the govern-ment legitimised microfinance by enacting the Microfinance Act 2006. Presently, only two microfinance institutions – Faulu Kenya and the KWFT Microfinance – are regulated under the Act out of hundreds of institutions operating in the country.
By Jeremy Gordon, KF11, Kenya –
Yesterday marked big news for branchless banking in Kenya. Safaricom, the company behind the highly successful mobile-money platform M-Pesa, announced its launch of a new service called M-Kesho (kesho meaning tomorrow in Swahili) allowing anyone with a cell phone to begin earning interest on their savings and even to receive a loan.
One of the things that first drew me to opt for a placement here in Kenya was the exciting innovation happening through mobile applications, where Kenya is both a pilot and a hub—pushing limits, and proving viability in this part of the world. This new foray into mobile micro-savings and micro-credit is particularly exciting news to me, so I couldn't help but head into the local Safaricom agent in hopes of setting up my own account. Unfortunately, once in town, the following became clear: 1) non-Kenyans cannot use M-Kesho, 2) no one (even Safaricom agent employees) knows all that much about it yet. Instead, I'll share what I do know, and the role this technology may play in the road ahead for microfinance.
M-Pesa was initially conceived to allow organizations like Kiva's partners to disburse loans and collect repayments with lower transaction cost and reduced risk than working with cash. The success of microfinance institutions (MFIs) who have implemented M-Pesa has been mixed, but the suite of services offered through M-Pesa has become wildly popular for broader purposes: allowing users to purchase airtime, remit funds to friends and family, pay bills, and even perform point-of-sale transactions (read: buying a bitter lemon from the local watering hole), all without touching a physical shilling. Yesterday's addition of M-Kesho is exciting for the obvious reasons—9.8 million M-Pesa users, many without traditional bank accounts or any access to interest-bearing savings, can now have just that. If there's anything that can quickly foster a culture of savings, it's ubiquitous access and real returns on investment.
But with M-Kesho, Safaricom has taken another step of particular interest to those of us interested in microfinance. With a 6-month history of M-Pesa transactions, the company is able to construct a basic credit profile and capture a financial picture of each user—something that microfinance organizations continually struggle in the absence of. Based on this data, M-Kesho will allow users to receive small loans (limited at launch to KSH 100 – 5,000 / US $1.30 – $65). No application form, no interview, and no crowded matatu ride from the bank: this service will be accessible as a menu option on even the cheapest handsets available.
Could it catalyze a shift in the greater institution of microfinance? Will MFIs, which currently rely on a more qualitative due diligence (usually conducted by credit officers in person), find partnerships with telecoms like Safaricom to leverage this valuable credit data? Or, as current MFI clients may now consider applying for their next loan via M-Kesho, will this move be seen as direct competition?
There are volumes to debate here: the ancillary services offered by many MFIs, the limitations and privacy concerns around transaction data, and the importance of group guarantees and the client-MFI relationship, to mention a few. In the meantime, I'll be keenly observing the reaction to, and early adoption of, M-Kesho. Successful or not, I hope we'll be offered some insight into the future of microfinance in Kenya, as well as other well-connected but under-banked parts of the globe.
Jeremy is a Kiva Fellow working with Juhudi Kilimo in Nairobi, and Yehu Microfinance in Mombasa. Though he was instructed explicitly not to, he can't help but greet the local kids with a goofy but well-intentioned "Jambo!"